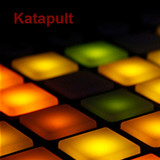 Midikatapult has recently released version 1.139 of Katapult, adding Apple iPad support to the flexible mapping application for the Novation Launchpad.
It allows you to map customisable multipage layouts to the Launchpad or iPad and send the MIDI output to any MIDI application or device.

Katapult supports bi-directional communication, meaning that your software can update the controls on the Launchpad or iPad surface.
Katapult is available to purchase for Windows and Mac, for a limited time price of $12.95 USD (regular $23.95 USD).
Visit Katapult for more information.