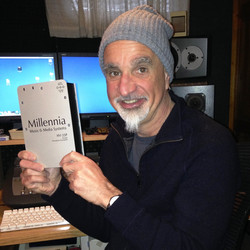 Millennia has announced it is now shipping the new HV-35P portable preamp.
Millennia's Portable Preamp Series starting shipping the second week of December. The first unit found its way to engineer/producer/songwriter/musician Dave Maswick.

Dave isn't afraid of being first. Another first for him was on MTV's very first day on the air (remember when they used to play music videos?) you may have seen him in the video for the hit song "I Wanna Be a Lifeguard".

"Location recording made simple. The HV-35P is the perfect 'mini' addition to my mobile recording rig. It's an ultra high-quality 500 series mic pre with no rack or lunchbox!"

"Who wouldn't want one of these? Millennia better make a boatload of these little guys. Everybody needs at least one!"

The HV-35P mic preamp is Millennia's acclaimed HV-3 circuit in a compact light weight chassis with external line lump power supply. It can also be powered from 12-15V battery packs.

The HV-35P features a front panel instrument input, DC coupled ribbon mic mode with 10dB gain boost setting, 80 Hz rolloff filter, 48V phantom, 15 dB Pad and Polarity flip. The gain control is continuously variable.
The HV-35P is available for purchase for MSRP $800 USD.