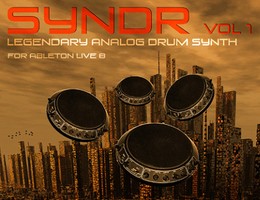 Millertone has announced the release of its SYNDR volume 1 multi-sample library of the Synare PS-3.
SYNDR volume 1 multi-sample library for Ableton Live puts the beauty and warmth of the true analog classic Synare PS-3 drum synthesizer into the hands of the modern music producer. Venturing well beyond the ubiquitous synth-tom sounds of the 70's, SYNDR volume 1 offers dozens of drum, percussion and fx kits and menus, as well as a complete arsenal of chromatic instruments (basses, lead synths, keys, percolating sequence synths, etc…). Entire tracks can be produced using SYNDR volume 1 and nothing else.

SYNDR volume 1 offers a broad sonic palette, with over 8600 samples captured from the Synare's self-oscillating filter sine waves, square waves, noise, oscillators with the pitch and/or filter LFO modulated by the square wave, deep resonating filters and more. Each sound was recorded at 8 velocity levels and at multiple decay settings. In order to record with absolute consistency, sounds were triggered via pulses generated by MIDI events in a DAW, directly into an external trigger input retrofitted to the Synare.

From authentic, soul-dripping, vintage vibe to the hypersonic sound of the future, SYNDR volume 1 is sure to be an inspiration for producers across the electronic music spectrum.
SYNDR vol 1 features
1.2GB+ multi-sample library for Ableton Live with over 8600 24-bit / 44.1kHz Samples.
8 velocity layers per note.
27 Drum Racks include a diverse range of drum, percussion and fx kits: from vintage to modern; light and punchy to raw and aggressive; deep and resonant to glitchy and dissonant.
78 Instrument Racks include chromatic instruments derived from the Synare's self-oscillating filter (sine wave), and Oscillator 2 (square wave) which were sampled chromatically over 5 octaves and at 8 velocity levels.
Over 950 'drag and drop' ready drum hits available both as Simpler instruments and as Instrument Racks.
Instrument Racks for drum hits have consistent Macro control of common features (Decay, Tuning, Parallel Compression, Saturation, Low Cut Filter, Velocity and Random Pan).
102 Simpler Menus (Bass Drums, Snares, Zaps, Metallic Hits, etc…) assembled from individual drum hits.
164 Live Clips (drum loops) organized into 26 Sets.
10 Live Sets.
2 Demo Songs (requires full version of Live).
SYNDR volume 1 for Ableton Live is available to purchase for the special price of $39 USD until the end of 2012 (regular $69 USD).
More information: Millertone / SYNDR volume 1