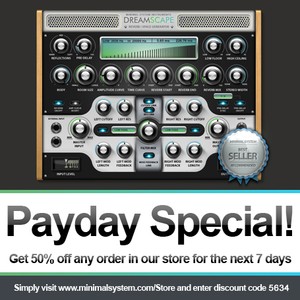 Minimal System Instruments has launched a Payday Special, offering 50% off all its products for a limited time.
Here at Minimal System we look forward to Pay Day as much as the next person!

To celebrate we want give each of our customers 50% off any order through the Minimal System Store over the next 7 days.

Many would think we are mad giving such large discounts off such low price products, we would respond by saying our customers should have the best products without the huge price tag, although we do need to cover the cost of our web hosting etc ;)
The 50% discount is available by using coupon code 5634 at checkout. The sale ends July 5th, 2013.
More information: Minimal System Instruments