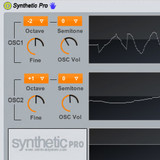 Minimal System Instruments has released wavetable synthesizer Synthetic Pro and UltraComp, a compressor effect plug-in for Windows.
Get creative with Synthetic Pro. Being a dual oscillator wavetable synth Synthetic Pro allows you to produce an unlimited amount of sounds.
Synthetic Pro features
Dual OSC wavetable synth.
Filter module with ADSR.
Delay/echo module.
Arp/Trance Gate module.
Spectrum analyser.
Ableton inspired GUI design (Works in all DAW's).
Very low CPU usage.
UltraComp is a compressor effect plug-in.

This beautiful vintage compressor is for perfect for both audio professionals or the bedroom producer. With its simple control panel it is easy to use and sounds absolutely fantastic. UltraComp can be used on individual instrument tracks or on your master buss.
UltraComp features
Beautiful classic sounding compressor.
Can be used on instrument tracks and the master buss.
Controls for Threshold, Ratio, Attack, Release, Gain, Power.
Professional vintage analogue GUI Design.
Very low CPU usage.
Synthetic Pro and UltraComp are available as VST plug-ins for Windows PC, priced at £14.99 / £9.99 GBP.
More information: Minimal System Instruments