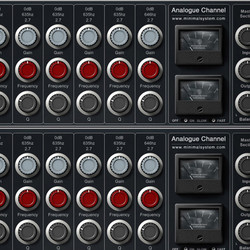 Minimal System has launched Analogue Collection, a effect plugins bundle capturing the legendary sound of classic hardware.
Introducing the Analogue Mixing and Mastering Collection.

Comprising of a comprehensive analogue modelled channel strip and breakout 8 band EQ this collection contains two powerful tools that can be used on your channel and master busses for great sounding mixing and mastering.
Analogue Collection features
Two plugins included – Analogue Channel Strip and Analogue EQ.
Channel Strip comprises of an 8 band customisable EQ, Buss Compressor, Limiter, and Master section.
Analogue EQ is an 8 band customisable EQ with Master section.
EQ frequency range – 20hz to 20,000hz on each band.
Each EQ band has +/-40dB of gain.
Buss Compressor designed to 'Glue' track groups together. Can also be used effectively to 'Glue' the final mixdown.
Signal flow of the Analogue Channel is as follows: EQ > Compressor > Limiter.
Monitoring meters on both plugins showing input, output, and compression gain reduction.
Analogue channel is perfect for buss channels or the master channel and can be used effectively for both mixing and mastering.
Modelled on classic analogue hardware.
Low CPU usage.
The Analogue Collection for Windows (VST) costs £29.99 GBP. It is available to purchase for at 50% off for the first 24 hours.
More information: Minimal System Instruments