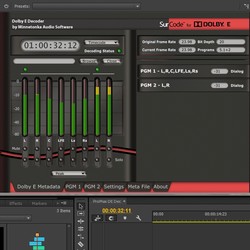 Minnetonka Audio Software has announced the completion of validation tests on their SurCode for Dolby® E decoder for use within Adobe Systems Incorporated's new Creative Cloud application suite.
Dolby E is the industry standard system for multichannel digital audio carriage across an asset's entire post–production life cycle, and SurCode for Dolby E is the Dolby-certified industry benchmark for file-based processing of Dolby E. The 2.1 version of SurCode for Dolby E decoder has passed Adobe's stringent requirements for compatibility with Creative Cloud's VST hosting.

The superior Dolby E capabilities of SurCode are now available in Adobe's benchmark production suite, including Adobe® Premiere® Pro CC and Adobe Audition® CC. SurCode for Dolby E is the only product line that addresses Dolby E workflows across all popular production platforms. SurCode for Dolby E's support for Creative Cloud joins the existing VST 2.4 plug-in support of other surround–capable hosts, including Fairlight, Nuendo, Pyramix and Sequoia. One license runs SurCode for Dolby E on any and all platforms, including Final Cut Pro and across Avid's product lines.

As a long standing development partner, Adobe Systems is a pivotal part of Minnetonka Audio's platform strategy. "Adobe came to us with a request to bring SurCode for Dolby E into the Creative Suite fold," said Minnetonka Audio president John Schur. "We are excited to be able to validate a Dolby E workflow in Premier Pro CC, strengthening the Creative Suite brand with new post-production capabilities."

Version 2.1 of SurCode for Dolby E Encoder and Decoder and version 2.0 of SurCode for Dolby E Stream Player are no-cost upgrades for existing license holders, and a how-to video will be available on MASI's YouTube channel for the Adobe Premier Pro CC use case. The latest releases are available, as individual products and value-focused bundles, through Minnetonka Audio's international network of resellers and system integrators.
More information: Minnetonka Audio Software