Misa Digital Instruments has announced that the Kitara and Kitara Limited Edition are now available for rre-order and on display at the NAMM show.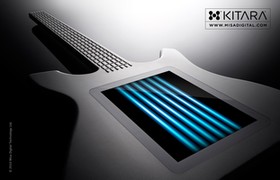 Kitara is the guitar, reinvented. It includes an innovative multifunction touch-screen, MIDI controls and an on-board polyphonic synthesizer with effects, allowing guitarists to fully express their musical vision, creating electronic music that pushes the limits of what's possible. Instead of using strings, guitarists control sound through their fingertips, using the touch-screen and fret board to play, enhance and alter sounds in real-time.

Kitara and Kitara Limited Edition are meticulously designed and crafted by musicians, for musicians. It's 100% digital design is capable of producing more sounds than any guitar that's come before, giving guitarists a brave new world of electronic sound and expression — on stage and in the studio.
Kitara and Kitara Limited Edition are available for pre-order priced at $849 USD / $2,899 USD.
More information: Misa Digital Instruments