Mixed In Key has announced a new addition to its Captain Plugins suite of VST/AU plugins for music composition. Captain Beat is a fully-featured beatmaking plugin that comes in a deceptively simple interface.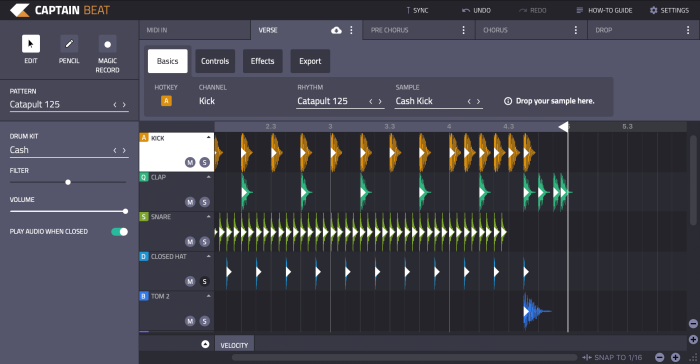 Captain Beat lets you program sequences with hundreds of expertly crafted kits and patterns. You can add your own samples and connect your MIDI controller to tap out patterns.
Choose from one of hundreds of patterns from the bank library or record your own rhythms by finger drumming using the computer keyboard. Select a drum kit from Captain Beat's sizable kit collection, or load in your own samples.

Sculpt your sounds using Captain Beat's Controls and Effects and finish by exporting the Audio or MIDI to your DAW. Captain Beat allows you to easily mix and match patterns from different genres to create original percussive patterns and is sure to become a 'go-to' plugin for producers.
Captain Beat features
Patterns: Choose from one of hundreds of drum MIDI patterns to create a beat. There are patterns from every genre and bpm, ranging from 67 BPM to 124 BPM.
Drum Kits: Make beats with one of our custom drum kits. Captain Beat has kits ranging from trap to hip hop and house, to latin, drum and bass, pop and r'n'b.
Hotkeys: Record your own rhythms using your computer keyboard or MIDI controller. This is a great feature for producers who like to finger drum. Each type of drum sample is automatically mapped to your computer keyboard; the letter each sample is mapped to is clearly marked in the plugin using Hotkeys.
Drum Roll: The Drum Roll is a vertical stack of drums that include Kick, Snare, Closed Hat, Open Hat, Shaker, Acoustic Snare, Toms, Crash Cymbal, Ride Cymbal, Tambourines and Claves. Each type of drum allows you to use one of Captain Beat's custom drum sets, swap in one of your own samples and easily select a different rhythm. Mix and match samples from different type of drum kits and rhythms to create original percussive patterns.
Banks: The banks section includes percussive patterns from Mixed In Key and featured artists. These patterns span a wide range of genres including dub, dancehall, hip hop, house, pop, reggaeton, techno, trap and more.
Basics: The basics section allows you select rhythm and samples, program percussive lines and drag and drop your own original samples onto the Grid Editor.
Controls: Advanced controls allow you to change the Attack, Hold, Decay and Pitch of each sample. In this section beat makers can tune samples and adjust the volume and panning.
Effects: Apply effects to sculpt and manipulate your samples. Filter the drums up or down, and apply reverb and delay to your drum patterns.
Export: Export the Channel Audio, Channel MIDI, Master Audio or Master MIDI to MIDI or Audio tracks in your DAW. This flexible range of features gives you control over what you export. To mix and process drums individually, export the Channel MIDI or Channel Audio. To export the drums as a group, export the Master MIDI or Master Audio. These additional export options give you more control over mixing your rhythms.
Until December 1st, 2019, Captain Beat is included in the Captain Plugins Suite for $79 USD alongside Captain Chords, Captain Melody, Captain Deep, and Captain Play. After December 1st, Captain Beat for Windows and Mac will be sold separately, priced at $79 USD.
More information: Mixed In Key