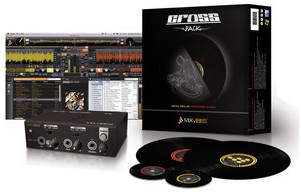 Mixvibes has released the CROSS Pack, a new digital vinyl and MIDI DJ solution for Windows and Mac platforms.
CROSS Pack is the utlimate bundle for demanding DJs who wish to get an all-inclusive solution (sound interface, 2 x control vinyls, 2 x control CDs, cables and software). This package offers an outstanding sound quality and the best latency performance on the professional DJ market.
The CROSS pack bundles the U46MK2 multi purpose soundcard with the CROSS DJ software.
MixVibes CROSS Pack is currently shipping for an MSRP of $449 USD. MixVibes CROSS (software only) is also available for an MSRP of $199 USD.
More information: Mixvibes