Berlin-based music tech firm MOD Devices has introduced a compact, affordable, and endlessly customizable modular effects processor: MOD Dwarf.
"Our products are developed to solve real musicians' problems, not to beat demands coming from specific market categories," says MOD Chief Executive Officer and Founder Gianfranco Ceccolini.

"After two successful releases with open-source software, we now introduce the MOD Dwarf, for a more hands-on approach. MOD unlocks unlimited sonic solutions for musicians of all levels, without compromising, quality or expressiveness."
Compact yet powerful, the MOD Dwarf boasts the capacity to house a vast array of effects, virtual instruments, amp simulators, and MIDI utilities.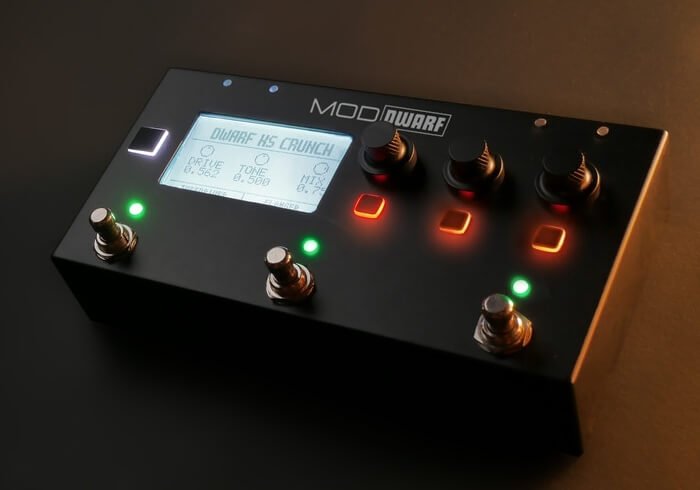 While originally designed with guitar and bass players in mind, the unit's numerous hardware connections support inputs for anything from keyboards, synths, and modular rigs to microphones, grooveboxes, and even MP3 players.
Set to become the most comprehensive and cost-effective hardware on the market for giving musicians access to limitless digital-modular effects, the unit is scheduled for release in Q4 of 2020 and aims to pre-sell 1000 units in its first round of production.

MOD Dwarf features
Two fully independent audio channels, each with separate gain control allowing for any instrument or signal you plug in.
Modular patching: split, join, feedback and rearrange your signal chain freely.
More than four hundred free plugins available in the online Plugin Shop.
Standalone PX30 Quad-core 64 bit ARM CPU 1.3GHz , 8 gb storage, 1 gb RAM
TRS Midi Jacks and USB-MIDI expandable with any USB-Hub. Class-compliant MIDI Learn.
Designed for using both standalone or assisted by a computer for intensive creative patching.
3 Knobs, 3 push buttons and three footswitches fully assignable to any parameter.
Single large LED screens for maximum visual feedback.
Customizable User Profile slots for several plug & play scenarios.
You can reserve the MOD Dwarf now at reduced prices by pledging at the Kickstarter project page.
More information: MOD Devices