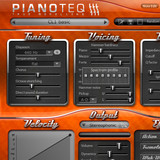 Modartt has released Clavinet CL1, a new add-on for virtual piano instrument Pianoteq.
The CL1 clavinet add-on, modelled after the well-known D6 electric clavichord, brings you the seducing bright staccato rhythms heard in many rhythms & blues, pop, funk, disco and reggae songs from the seventies.

Thanks to the powerful technology provided by physical modelling, it offers in contrast to the original instrument a sustain pedal, an extended range from C0 to C6 (original range F0 to E5), a variable mute bar, continuous pick-up mixing, and possibilities to adjust the timbre such as hammer hardness, overtones and resonator.

There is also a wah-wah feature and customized EQ presets.
The clavinet add-on is embedded in demo mode in Pianoteq's latest version 3.5.3 and can be unlocked for 49 EUR.
More information: Modartt