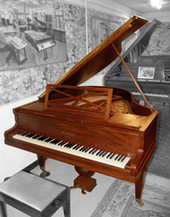 Modartt has released a Pleyel add-on for Pianoteq, a virtual piano instrument for Windows and Mac.
As an early Christmas gift to our customers, we hereby release a virtual copy of a 1926 Pleyel grand piano Model F, available in the latest version of the KIViR add-on collection of historical instruments.

Chopin preferred to compose and perform on Pleyel pianos and it was also used by other major composers, such as Debussy, Ravel and Stravinsky. The Pleyel sound can be described as round, warm and sensual.
The Pleyel add-on is now available to download from the Pianoteq website.
More information: Pianoteq