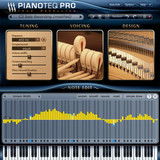 Modartt has announced the release of Pianoteq Pro, the advanced version of virtual piano instrument Pianoteq.
For the first time in the history of pianos, complete control of physical parameters of the piano is made available to the user. In the real world, reshaping a soundboard would require several weeks of work in the factory. With Pianoteq Pro, you have a new soundboard only one mouse click away!

Pianoteq Pro offers note per note adjustment for no less than 22 physical parameters, such as tuning, unison width, hammer hardness, strike point, string length, spectrum profile, soundboard impedance, damper position… In fact there are thousands since each overtone of each note can be controlled separately with the spectrum profile parameter!

In 1977, Gabriel Weinreich concluded his grounding article "Coupled piano strings" with "In any case, one could expect to build a better piano if the aftersound could be more deliberately controlled through an appropriate understanding of the soundboard". Thirty-two years later, Weinreich's dream is becoming reality with Pianoteq Pro.
Pianoteq Pro features
Note per note adjustment for 22 physical parameters: detune, unison width, direct sound duration, hammer hardness piano, hammer hardness mezzo, hammer hardness forte, spectrum profile, hammer noise, strike point, pickup symmetry, pickup distance, impedance, cutoff, Q factor, string length, note resonance, quadratic effect, damper position, damper duration, damper noise, key release noise, volume. Restricted to detune and volume in the Standard version.
Sample rate available up to 192 kHz. Restricted to 48 kHz in the Standard version.
The instruments created with Pianoteq Pro can be loaded in both Pianoteq Pro and Pianoteq Standard.
Pianoteq Pro is available to purchase for 399 EUR. An upgrade from the standard version is 150 EUR.
Modartt has also released Pianoteq 3.5 Standard, which offers the same advanced physical model as in the Pro version, resulting in a vastly improved sound that concerns presence, clarity, fortissimo, resonances, overtones and damper response.
There are also several new features, such as a new Duplex Scale resonance slider and two new velocity maps (note-off, sustain pedal). The upgrade to version 3.5 is free for all customers.
More information: Pianoteq