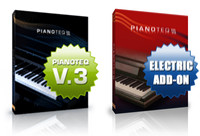 Modartt has released version 3.0.2 of Pianoteq 3, a virtual piano instrument for Windows and Mac.
We have made some minor modifications to the C3 instrument sound: more punch in fortissimo, slightly longer notes and slightly longer harp resonance.
Modartt has also released Bells and carillons, a free add-on for all Pianoteq customers.
The MODARTT team is glad to offer to all Pianoteq customers a free add-on made of Easter bells coming directly from Roma!

Actually, it is a virtual copy of bells and carillons that were recorded at the European Bell Institute.
Visit Modartt for more information and audio demos.