Modstep has announced the release of version 1.0.2.5 of its Modstep MIDI sequencer app for iPad.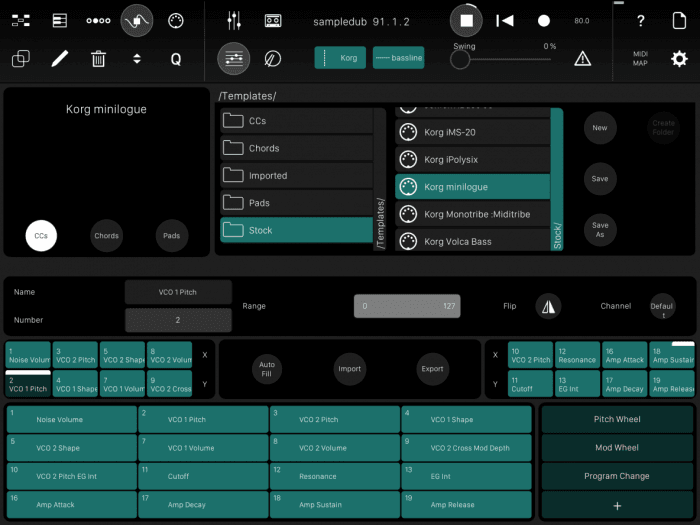 Version 1.0.2.5 comes with an improved handling of CCs, easier and more direct access to external MIDI sources, several new and updated MIDI Templates (Korg minilogue, Roland A-01, Roland TR-8, Waldorf Streichfett, Meeblip anode, Meeblip anode LE, Korg Volca Beats, Korg Volca Sample), the new Tonal Kits and several bugfixes, enhancements and improvements.
Changes in Modstep v1.0.2.5
New Features:

CC behavior changed: While Mod All is off, only the selected CC will be modulateable, all others remain untouched or play their recorded modulation. When Mod All is engaged, 8 CCs per X/Y-Pad can be modulated and recorded at the same time.
added "All Inputs" option to Tracks' MIDI Input Settings.
"All Inputs" is the default for new Tracks.
Added manual link.
Added Track setup label for IAA Midi.
Enhancements for IAA loading, reloading and deleting.

New Templates:

Roland A-01.
Korg minilogue.
Roland TR-8.
Waldorf Streichfett.
Meeblip anode.
Meeblip anode LE.

Existing Templates updated with mappings for the Pads:

Korg Volca Sample.
Korg Volca Beats.

New Sample Kits:
Bugfixes

Pressing AudioShare without a sample or folder selected could crash.
Sample Start/End and One Shot will be saved correctly.
"New Kit Name" was displayed when new Template was created.
faders were gone when loading IAAs in Session View.
a crash could happen when switching quickly between Scenes/Clips.
fixed channel order when using studiomux.
Autoload IAAs setting wouldn't change status.
external MIDI could create hanging notes.
crackles when using studiomux could appear.
fixed a crash that would happen when "15" was selected in the Step Shifter.
modstep won't hijack the Ableton Link session tempo anymore.
several small fixes and enhancements.
Modstep is available for purchase for $19.99 USD.
More information: Modstep