Dialog Audio has announced the release of Modulation Processor 3244, an audio plugin designed for extensive modulation and synchronization of audio hardware and software within a DAW host application.
The plugin allows you to use your classic analog synthesizers and modular systems within a DAW for synchronized parameter modulations.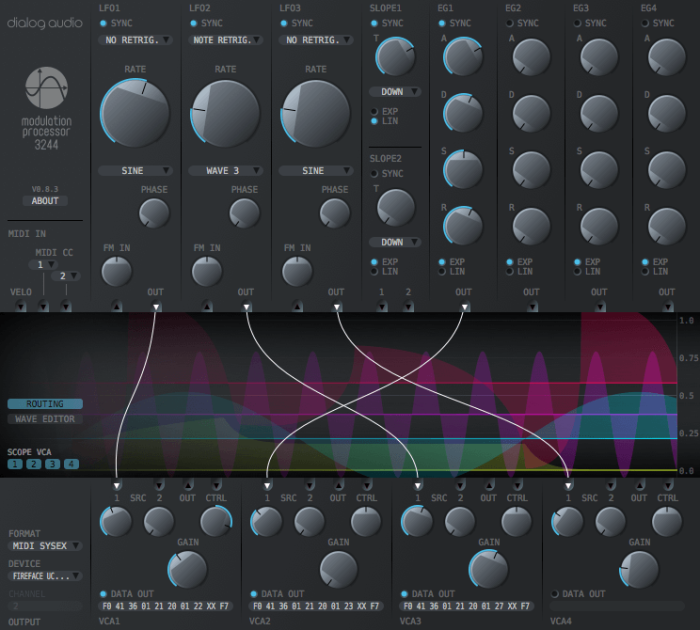 As implied by name, the Modulation Processor 3244 plug-in provides three LFOs (Low Frequency Oscillators), two slope generators, and four envelope generators, all of which can be synchronised to the host application with the creative convenience that modern-day music-makers have come to expect from plug-ins.

Only Modulation Processor 3244 is quite unlike any other plug-in in existence, starting out as a novel way of fulfilling a very specific need. "Needing to get a filter to modulate synchronised via SysEx from a host application was the basic idea behind its development," divulges company founder Julian McDole.
Modulation Processor 3244 features
Create modulations and synchronizations with 3 LFO's, 2 Slope Generators, 4 Envelope Generators and 4 VCA outputs.
The modular structure allows flexible and creative signal processing to fit your needs.
Create custom waveforms via a wave editor to create your unique modulations.
Modulation Processor 3244 is available for Windows and Mac (VST/AU/AAX), for an introductory price of $50 USD (regular $65 USD). Prices ex. VAT.
More information: Dialog Audio