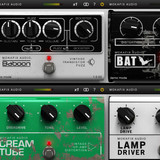 Mokafix Audio has announced a new series of distortion stompbox emulation effect plug-ins for Windows.
After the release of a first batch of six fuzz and distortions VST effects and the two popular NoAmp! and Metal-Clone freeware FXs, Mokafix Audio announces a new series of distortion stompboxes emulations.

Those FXs will be available as PC VST plugins and will cover a range of vintage distortion and overdrive tones.

Each effect is based on the original effect schematics and features all the processes of the original circuit (DC filtering, gain stages, clippers, tone filtering).

They have then all been fine tuned with specific audio material to match the tone and dynamic response of the real stompboxes, in order to guarantee a faithful reproduction of the original tones and realistic analogue behaviours.
The distortion effect plug-ins for Windows PC (VST) are scheduled for release by the end of February.
More information: Mokafix Audio