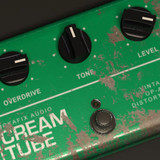 Mokafix Audio has released 6 new effect plug-ins for Windows, covering a range of vintage distortion and overdrive tones.
Those effects are based on hardware effects schematics and feature all the steps of the original circuits (DC filtering, gain stages, clippers, tone filtering).

They have all been fine tuned using specific analysis of the hardware units to further match the tone and dynamic response of the real stompboxes, and guarantee a faithful reproduction of the original stompboxes tones and behaviours.

Each effect features oversampling to sound and feel as close as possible to analogue effects.
New effect plug-ins
The effects are available to purchase for Windows PC (VST) for 9 EUR each, or in a bundle at a discount price.
Mokafix Audio has also released version 1.2 updates for the FX series #1 plug-ins; EZ-Driver, Muffin Rider, Kung Fuzz, Companero, Rectifuzz, Brass Buster, Noamp! (freeware), Metal Clone (freeware).
The main change is stereo and oversampling instanciation which is now done virtually on request only. This method saves RAM and avoids cpu peaks on loading.

Muffin Rider now comes in 4 versions. Initial version has been renamed "x" on GUI, and 3 new versions (US, RU, 3rd) have been added. Those 3 new versions are based on thorough analysis of 3 different hardware models of that vintage effect.
More information: Mokafix Audio