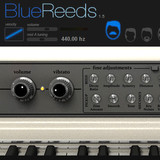 Mokafix Audio has released version 1.5 of Blue Reeds and Glue Reeds, two electric piano emulations for Windows.
The "click on noteon" bug that still happened on some setups after a patch change has been completely ironed out, which means BlueReeds and GlueReeds should now perform flawlessly on any PC.

Inner piano presets are now stored externally to save RAM and make the plugins load faster.
Changes in Blue Reeds/Glue Reeds v1.5
"click on NoteOn" bug has been ironed out.
Reed acoustic harmonic content has been improved.
New GUI.
Minor adjustments.
Inner presets now stored externally for faster plugin loading and reduced RAM consumption.
Blue Reeds: modulation FXs can be synced to host tempo.
Blue Reeds: "noFX" version available along with the full version.
Glue Reeds: default velocity response has been updated to be closer to the original intrument dynamics.
Blue Reeds is available as a VST instrument plug-in for Windows PC, priced at 49 EUR. Glue Reeds can be downloaded as a freeware VST plug-in for PC.
More information: Mokafix Audio / Blue Reeds / Glue Reeds