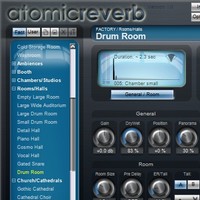 Molecular Bytes has announced the upcoming version 1.1 of its AtomicReverb room and reverb processor plug-in for Windows and Mac.
The update adds many new major features including performance- and quality improvements, MIDI learn, oversampling, new parameters and more. It also adds 80 new factory-presets and a stand-alone application for Windows. With the release of version 1.1, atomicreverb will be also available for Mac AudioUnits and VST 32/64bit.
Changes in AtomicReverb v1.1
Added Mac OS-X AU (AudioUnits) and VST versions (32- and 64-bit).
Added frequency controls for reverb-tail damping.
MIDI-Learn / MIDI controlling function.
Added stand-alone application (Windows only).
Possibility to lock Input-Gain, Dry-Wet and Tail-Density parameter.
Optionally reposition for dry signal.
Support of 2x oversampling.
Faster GUI and preset handling.
Left/right VU meter.
Knobs: Behaviour like in other Plug-Ins: Slow movement using SHIFT, default value using CTRL/Command key.
Tooltips on controls and fast-parameter info.
Remembers selected preset-group and collapsed/expanded state of sections.
Additional presets (now 230 factory presets available).
Program name editable directly / send to host.
User-Manual shortcut button.
Deactivation possible for already web-deactivated keys.
Highlight 'hot' preset.
Processing performance optimizations.
Volume correction for Tail-Type-B (++ and +++ Density).
Some minor bug fixes.
AtomicReverb v1.1 is scheduled for release mid December, 2012. The plugin is currently available to purchase for Windows (VST), priced at 69 EUR. The update will be free for current users.
More information: Molecular Bytes / AtomicReverb