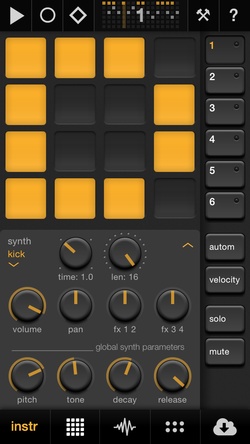 MoMinstruments has released version 1.2 of Elastic Drums, a drum synth app for iOS.
Elastic Drums, is a music app with 6 channels of synthesized drum sounds, a step sequencer and 4 fx channels, all tweakable in an elastic way.

The sound range is from classical analog beatbox style to the weirdest effect drone soundscapes.
Changes in Elastic Drums v1.2
Better inter-app audio (IAA) implementation with transport control.
Background audio on/off switch (mixer -> options).
Save battery power with background audio switched off.
Start/stop/(sync) via external Midi (mixer -> options).
Extended number of patterns.
New presets.
IPad2, iPhone4s improvement: fx2, fx4 were not properly switched off.
Slightly performance improvements due to fx off switching in master section.
Choose automate and velocity target at the same time is dissalowed (could crash app).
Updated manual (file -> options).
Debugged randomize behavior.
The app is available for purchase for $7.99 USD.
More information: MoMinstruments / Elastic Drums