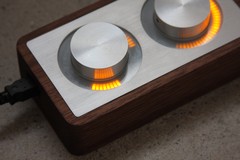 Monome has introduced Arc, a new controller featuring beautiful rotary encoders.
something new. ultra-high resolution optical rotary encoders, with push buttons. high-density variable-brightness led rings. two and four knob versions fit perfectly alongside other monome devices.

decoupled control, providing the same massive adaptability that monome pioneered five years ago.

orders and shipping in february. pricing, details, and media forthcoming.
More information: monome