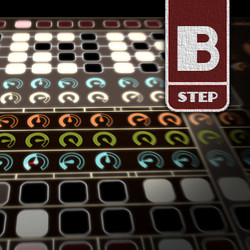 Monoplugs has released version 1.2.3 of its B-Step Sequencer for iPad, featuring improved performance on older devices like iPad3 and iPad2.
Create awesome chord progressions (to build up a whole song) with B-Step only by a few fingertips. Where other sequencers stops B-Step goes one step beyond – With B-Step you can easily sequence your sequences (up to 16 Pattern configurable).
Changes in B-Step Sequencer for iPad
User interface performance boost.
Fix timing issues.
Fix app switching breaks.
Fix MIDI sync (as master).
Fix MIDI playback stops if Audiobus app is running.
Remove next bar in chain marker.
Other small user interface changes.
Add delete and browse functions to the file chooser.
B-Step Sequencer for iPad is available for purchase for $16.99 USD.
Update October 2020: Now available for FREE from Monoplugs.