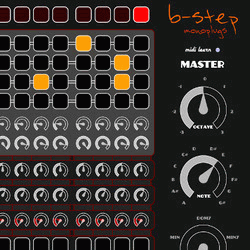 monoplugs has released version 1.1 of its b-step sequencer plug-in.
b-step is a bass guitar oriented multi string (or track) step sequencer vst-plugin, designed for improvisation and easy live use. You program your melodies live, in a few seconds and you can't hit a wrong note. b-step is based around the circle of fifths – you don't have to know anything about harmony or music theory, b-step does it for you!

Version 1.1 provides improvements in areas such as Launchpad usability, MIDI IO handling and better OS and Host support. In addition, b-step 1.1 comes with a chord editor, where you can program your own set, fixing all known problems and bugs.
Changes in b-step v1.1
OS:

Add support for OS X 10.5 to 10.8 (Intel).

Hosts:

List as instrument in Ableton Live.
Remove support on OS X for Cubase (unsolved problems).

Settings:

Add settings editor for MIDI IO.
Add pop up for manage MIDI learn.

Programming/Handling:

Add chord editor. You can program your own chords or use the defaults.
Increase to max 8 repeats per bar (from 4).
The target bar will be the selected after drag'n'drop.
Bar-repeats, bar-offset, bar-octave will be no more copied by drag'n'drop.

Timing:

Fix timing bug – everything is absolutely sample accurate.

Launchpads:

Improved the complete launchpad map.
Add external MIDI port handling to manage MIDI IO.

MIDI learn:

Add multiple controller assignments.
Add support for notes as controller.

User Interface:

Add rotary to control all duration rotaries.
Add rotary to control all velocity rotaries.
Reduce UI refresh rate, feels less laggy.
Add auto resize if the desktop area is to small.
The plug-in is available to purchase as a VST plug-in for Windows and Mac, priced at 19.99 EUR.
Update October 2020: Now available for FREE from Monoplugs.