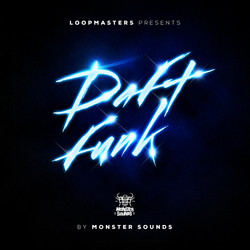 Monster Sounds has launched Daft Funk, a sample pack featuring lovingly crafted riffs, loops, beats and multi's all busting with the distinctive bumping swagger that we all know and love as the grooving soulful sound of French electronica.
Some of the most iconic dance music of the last 20 years has come from the shores of France leading the filter electro sound, basing the tracks around a straight four to the floor groove with a heavy disco funk soul influence, but bringing a contemporary electronic sound into the mix with house production techniques and sounds.

Many of these popular releases have relied on sampling the main groove from records to capture the live feel and vibes from the original 70s and 80s classic records' which is a risky business and can lead to long legal battles if the sample is not cleared – with Daft Funk you can avoid these hassles and get straight to the funk!

We have thrown down a huge set of grooves, from beats to bass lines, keys and funky guitar licks that Niles himself would be proud of. Mixing the full grooves together then give you the chance to filter and mash them up as if you were sampling from a record which is the key to capturing the sound of sampling records, as the way your filters react to the full loops is much more authentic if all the instruments are playing together. To give you full flexibility we have given many of the grooves split down in to individual parts also to allow you to build your own grooves.
Daft Funk is available to purchase for £29.95 GBP. Individual parts are sold separately.
More information: Monster Sounds / Daft Funk