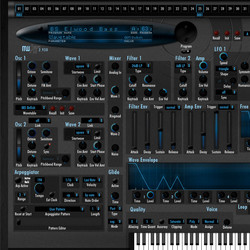 monstrumMedia has released version 2.95 of its monstrumWaveXT editor plugin for the Waldorf Microwave II, XT and XTk.
Newly added features include selective randomization with the ability to lock/unlock sections (LFO1, OSC2, Wave Env, etc) for randomization, Waveform Shapers for additive and subtractive waveform synthesis, save and load waveform from file and many more.
Changes in monstrumWaveXT v2.95
Selective parameter randomizer which allows you to lock/unlock sections (LFO1, Wave2, Free Env, etc.) for randomization.
Generate then print or mix Waveform Shapers.
Shift waveform amplitude.
Limit positive/negative amplitude.
Negate waveform amplitude.
Negate waveform time.
Save/Load waveform to binary file.
Implemented several feature requests and bug fixes.
monstrumWaveXT is available to purchase for $79 USD.
More information: monstrumWaveXT