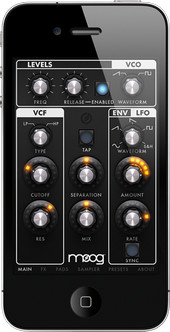 Moog has released version 1.1 of Filtatron, is a realtime audio filter and effects engine for iOS.
FILTATRON is much more than your average sound app. It's a phenomenal real-time audio effects suite and powerful studio tool for your iPhone or iPod Touch.

It's not a toy, but go ahead and play with it.
Changes in Filtatron v1.1
New Filtratron settings panel in the Settings app allows you to change the audio output (speaker, earpiece or Bluetooth), sample rate, audio latency, and control response rate.
Major upgrades to the Sampler: Now you can import any song in your collection into the Sampler, and record and play back samples of unlimited length.
Pitch Lock feature for the VCO Pad control allows you to play a chromatic scale using the Filtatron oscillator.
Retina display resolution and iPad native version coming soon; these features are currently in development and are scheduled for release in early 2011.