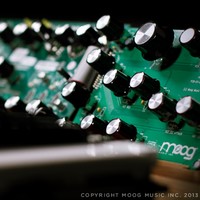 Moog has announced it will reveal its upcoming analog synthesizer at the NAMM 2013 show.
Professor Herb Deutsch, synth pioneer and collaborator of Bob Moog, visited the Moog Machine Shop during Moogfest 2012. While here, Professor Deutsch explored Moog's next generation analog synthesizer, while still in its research & design phase. In the past, Bob Moog always tested his ideas, instruments and sounds with musicians and colleagues. This spirit of collaboration continues at the Moog factory to this day and is essential to our work. It is a key part of the product development process, as it furthers our ideas and helps us shape better tools for musicians.

Making its official debut at NAMM 2013, the first 24 of these new instruments are being handcrafted at the Moog Factory this week. Until you get a chance to see it in its final form at NAMM 2013, please enjoy this video. Love, your friends at Moog.
More information: Moog Music