Moog Music has announced that the first Moog modular synthesizer and synthesis educational tool created exclusively for iOS is now also available on macOS Big Sur.
This free update to the Moog Model 15 Modular Synthesizer App makes it possible to recreate the sounds and workflow of the classic hardware Model 15 modular synthesizer using a macOS device through Audio Unit v3, or as a standalone sound design tool.
The update allows for seamless integration with Logic, GarageBand, and MainStage for use in studio and live performance environments. The Model 15 App can be used standalone, as an Audio Unit v3 plugin, or as an effect in your existing audio chain.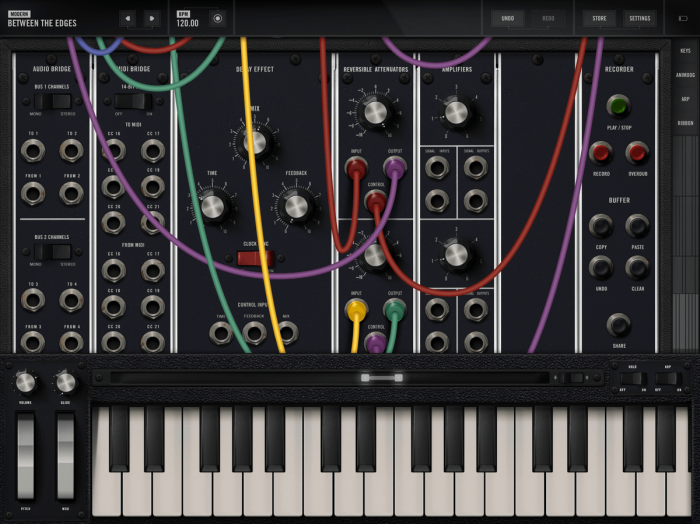 A new expansion pack, free to download for app owners, features 80 modular patches with a range of styles that will inspire both budding synthesists and advanced sound designers alike. From sub-rattling basses to mix-cutting leads, punchy percussion to dynamic pads, the Synthesist's Toolkit has something for everyone, no matter where you are on your modular journey.
Seven new built-in tutorials encourage the exploration of modularity, introducing synthesis concepts and unique scenarios an artist would not encounter with hardwired synthesizers. Focusing on the nuances of modular patching, these tutorials are designed to inspire users to discover new levels of depth and movement in their sound.
This added universal compatibility is now included in all future downloads of the Model 15 App, which is still priced $29.99 USD.
If you already own the Model 15 App on your iOS device, no additional purchase or upgrade is required to use the app on your Apple Silicon or Intel based Mac laptop or desktop, and it can be downloaded from your previously purchased items.
Visit Moog Music for more information.