Moog Music has released version 2.2.4 of Animoog, a synthesizer app for iPad.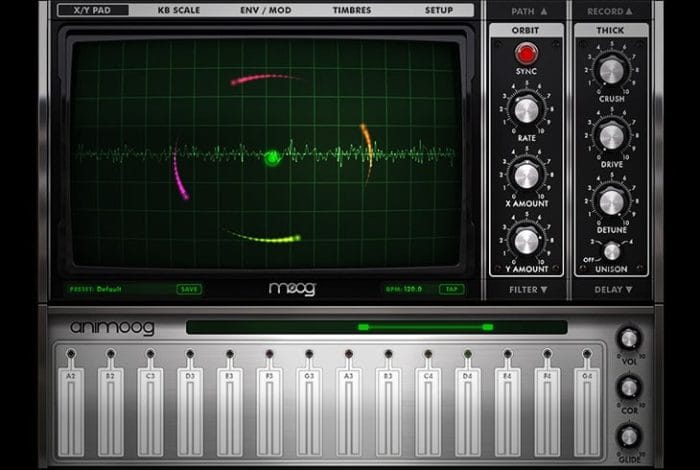 Animoog, powered by Moog's new Anisotropic Synth Engine (ASE), is the first professional polyphonic synthesizer designed for the iPad. ASE allows you to dynamically move through an X/Y space of unique timbres to create a constantly evolving and expressive soundscape.
Changes in Animoog v2.2.4
Stable support for iOS 8.
Stable support for 64-bit devices.
Revised timbres panel with categories (touch-hold timbre in category for preview).
Fixes for timbres showing up with domain name prefixes.
Audiobus input slot compatibility fixes.
Virtual Animoog MIDI ports are now always available even if no port is explicitly selected.
Improved IAA instrument compatibility (IAA transport panel will be done for a future release).
Use with any buffer size from 128 to 4096 (256 being the intended size for all supported devices).
Fixes for restore purchase functionality.
Improved in-app store layout and interaction.
iTunes File Sharing access to timbres, presets and projects.
Removed import/export preset from setup panel since iTunes File Sharing should cover all needs.
Added timbre category list under 'random preset' to enable/disable categories to randomize timbres from.
4-track recorder fixes for loading clips, pasting clips and AudioPaste.
4-track project fixes for save/load/delete/share.
4-track now remains unlocked when not connected to network.
Pitch bend range is now always saved with presets and correctly loads from presets when this option is active.
Pitch and mod strips now light up with incoming MIDI.
Hold button now more clearly shows when it's active.
Manual MIDI CC input now ensures only numbers can be entered.
Keyboard scale selection now doesn't misbehave after selecting the whole tone scale.
Preset panel is laid out more consistently.
Resuming after interruptions from Siri now reactivates audio.
Proper handling of large amounts of MIDI expression data, coming from alternative controllers.
Updated built-in manual.
Animoog is available for purchase from the iTunes App Store for $29.99 USD.
More information: Moog Music / Animoog