Moog Music has announced it is shipping the Sub 37 Bob Moog Tribute edition, a limited edition analog synthesizer featuring a Bob Moog signature panel, wood sides, and aluminum extrusion.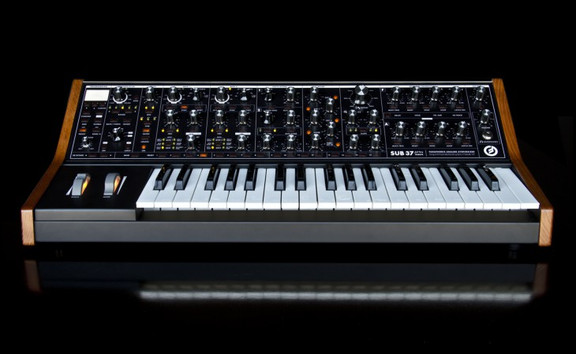 The Sub 37 Tribute Edition is a limited edition (2-note) paraphonic analog synthesizer built on the award winning Sub Phatty sound engine. Its panel features 40 knobs, 74 switches, and has a dedicated LCD display – placing each critical sound creation element and live performance tool quickly at your command.
Sub 37 features
Perform in Monophonic or Duo-Paraphonic modes.
37-note velocity sensitive keyboard w/ aftertouch.
2 modulation busses w/ assignable source and destinations.
DAHDSR (Delay, Attack, Hold, Decay, Sustain, Release) looping envelopes with sync.
256 Presets -16 banks of 16 patches.
Syncable Arpeggiator and Step Sequencer.
Classic Moog Ladder Filter with resonance, MultiDrive, and selectable filter slopes.
For every Sub 37 Tribute sold, Moog Music will donate a portion of the proceeds to Asheville Area School Music Programs.
More information: Moog Music / Sub 37 Bob Moog Tribute edition