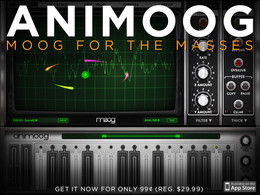 Moog has updated Animoog, a software synthesizer for the iPad.
Animoog, powered by Moog's new Anisotropic Synth Engine (ASE), is the first professional polyphonic synthesizer designed exclusively for the iPad. ASE allows you to move dynamically through an X/Y space of unique timbres to create a constantly evolving and expressive soundscape.
Changes in Animoog v1.0.1
New functionality

:

Background audio support.
Record module now has a 4 beat count-in with optional beep (configured on Setup page).
Also on Setup page, a new Random Preset button (warning: dangerously addictive).
Timbres page: 'Preview' button, select timbres silently or select & preview them audibly.
Multi-mode knobs are now easier to adjust.
Network MIDI session now enabled by default.

Bugs fixed

:

Memory leak on switching page views was causing crashes.
MIDI Clock Sync much smoother.
MIDI note to KB display mapping is now correct.
Handles MIDI NoteOn w/ velocity 0 as a NoteOff.
Animoog for iPad is currently available to purchase for the introductory price of $0.99 USD (regular $29.99 USD).