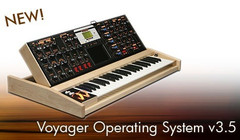 Moog has released operating system version 3.5 for the Minimoog Voyager, an analog synthesizer.
Operating System Version 3.5 for the Minimoog Voyager Analog synthesizer adds a number of new features, including quick save, category browse, and legato glide.

After you update your Voyager to OS 3.5, there is a new bank of the freshest Voyager presets on the planet available as a free download. Programmed by Miles Davis keyboardist Adam Holzman, Danish producer Daniel Muschinsky, Moog engineer Steve Dunnington and Moog associate Ben Hovey, these sounds span the spectrum from classic to cutting edge.
Changes in Minimoog Voyager OS v3.5
Master Mode

MIDI Panic Function

– Allows the user to select whether or not to send a MIDI All Notes Off message when the MASTER switch is pressed.

Storage Mode

– This sets the behavior after a preset is stored. The user is prompted: Go to stored Preset after Saving? If YES is chosen in this screen, then after a preset is stored to a new location the UI goes to the new location. If NO, then after a preset is stored the current location is maintained in the UI.

Edit Mode

Glide Modes

– There are now 8 glide modes. 1 of 8 is stored in a preset. This determines how Glide behaves when the Glide switch is ON. (Note: to make room for the Glide mode feature in the Edit menu, Filter A poles and Filter B Poles are combined into the single menu item: "Filter Pole Sel.")

Panel Mode

Quick Save

– If a preset has been edited, then pressing the Master switch twice saves the preset to the present location.

Sound Category Browse

– If Enter is pressed, the Preset advances to the next available sound in the bank or in the subsequent bank with the same sound category – this is useful for searching for all lead sounds, bass sounds, percussion sounds etc… pressing Enter AND Cursor goes backwards in the progression of the sounds in that category.
More information: Moog