The Moogseum has announced its participation in Google Arts and Culture's Music, Makers, and Machines, an interactive online resource highlighting the crucial role electronic music plays within wider culture, both past and present.
The online exhibition features exhibits from 55 partner museums and non-profits from around the world, sharing historical and education artifacts from their vast collections. The Moogseum created 13 exhibits, sharing over 275 pieces of material from the Bob Moog Foundation Archives.
In alignment with its mission to bring the pioneering legacy of Bob Moog alive for people of all ages, the Moogseum is sharing exhibits that explore Bob Moog's life and career; evolutions in synthesis over a 100-year period; the history of Moog synthesizers; the use of Moog synthesizers in pop, rock, funk, jazz, and early pioneering works; the fundamentals of synthesis as explored through Moog circuitry; the early history of the Minimoog, and more.

Through the Google exhibit interface, the Moogseum has been able to integrate a wide variety of videos hosted on YouTube to enrich each experience.
The Moogseum is also hosting Blacktronika, a special exhibit curated by professor and electronic musician King Britt.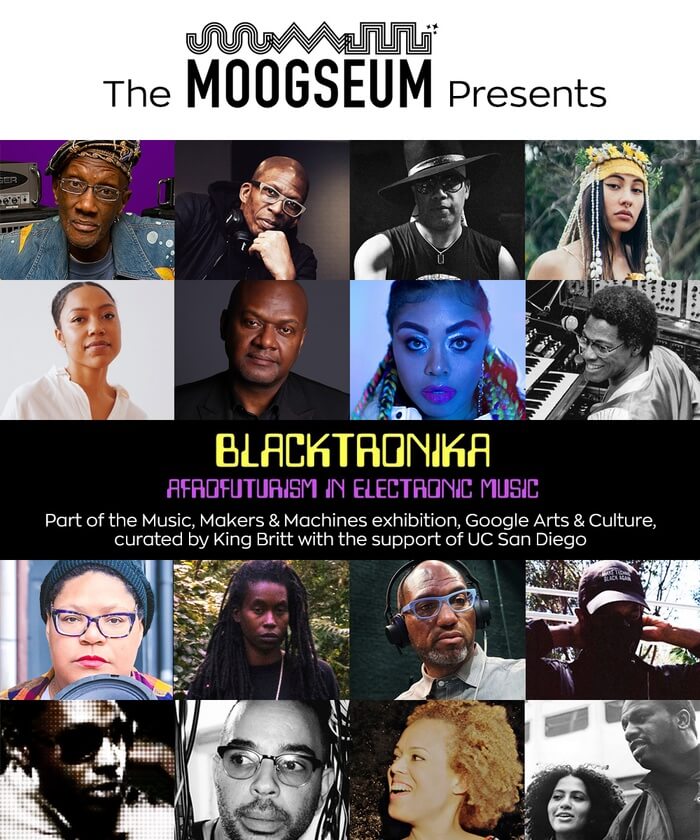 The exhibit is based on Britt's popular course by the same name, which he teaches through his work with the University of California San Diego.
Blacktronika features Black innovators in electronic music including Sun Ra, Bernie Worell, Hank Shocklee, Carl Craig, Low Leaf, Ari Melenciano, James Poysner, Suzi Analogue, Don Lewis, Moor Mother, King Britt, Christina Wheeler, DeForrest Brown, Jr., Antipop Consortium, Computer Jay, Elisabeth Wheeler, and Attica Blue. Britt shares an original composition which provides the aural backdrop for the exhibit.
More information: Bob Moog Foundation