Morevox has announced two new product bundles: Creative Bundle and Quick Bundle.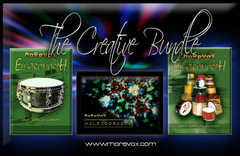 Creative Bundle
Elektromorph I

, a massive electronically morphed drum sample library with 32 kicks,44 snares,14 tom sets, 94 cymbals and several other multilayer percussion and fx. More than 800 24bit samples ready to quickly regenerate your drum tracks.

Elektromorph II

, gives you several ways to create amazing drums tracks: deep and punchy digital sounds, warm and dirty-valve analog sounds, dry impact drums, explosive roomy wide hits, massive pure natural sounds, classic Morevox creative sounds, and more, for a total of 820 samples and 118 Instruments (24bit).

Kaleidoscope

, takes a unique approach to drum libraries. Kaleidoscope uses multi-samples to represent unique sample nuances. Recorded with top audio gear, Kaleidoscope samples have been multi-processed up to one hundred times to create several thousand dynamic and multi-colour drum samples! Liquid fat kicks, wide killer snares, aggressive vari-pitch hits with up to 15 variations/layers and 14 dynamic levels for each sound, are arranged in very dense patches.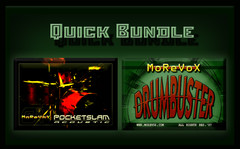 Quick Bundle
PocketSlam 01 Acoustic

, a top class acoustic drums library. The samples have been recorded with top quality gear and processed in both analog and digital domain. The room sound volume is adjustable for each sample. PS01 is ideal for re-triggering, to create powerful midi drum tracks and amazing drum loops. PS01, starting from its top class basic sounds, will allows you to access up to 110 and more multilyer sounds (using the battery3 patches).

Drumbuster

, the "entry level" Morevox drum library. Drumbuster is the easiest and advantageous way to immediately boost your drum tracks. Recorded with a Neve VR on 2″ Studer A80 than digitally edited, Drumbuster (15 Kicks, 10 Snares for over than 100 samples) represents the sum of analog warmth and digital dynamic.
The Creative Bundle is available to purchase for $289 USD (upgrade from Elektromorph Bundle for $59 USD), and the Quick Bundle is $49 USD.
More information: Morevox