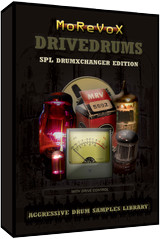 Morevox has announced the release of DriveDrums SPL DrumXchanger Edition, a drum sample library for SPL's drum replacement tool.
Taking advantage of the "Rim" pot feature in SPL DrumXchanger, DriveDrums SPL DrumXchanger Edition uniquely use this pot to control distortion "colour" in the mid range : the Drive Control.
It works similarly to an equalizer, but this tone control was created by splitting the original drum sounds into different frequency bands and then building brand new samples. These new variations were then carefully processed through a variety of distortions, using top-quality analog signal chains, with the aim of providing different distortion colours components in the mid range that can be mixed with the base samples.
This is not a modelled EQ emulator but an outstanding sound generator based on REAL professional gear's dynamic behaviour.

The Drive Control works in the frequency range 500Hz – 3Khz. It adds definition, Rich and Warm tube sound with sweet distortion. It increases the "in your face" sound's perception.
DriveDrums SPL DrumXchanger Edition is available to purchase as a download, priced at $99 USD.
More information: Morevox / DriveDrums SPL DrumXchanger Edition