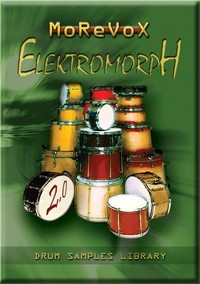 Morevox has released Elektromorph 2, a powerful drum sample library which will take your drum tracks on an unexpected and creative sound adventure.
Divided into Massive Path Sounds and Creative Path Sounds, Morevox ELEKTROMORPH 2 has been recorded with unique top quality signal paths to create individual sound coloring, then hyper-edited in both analog and digital domains.
Elektromorph 2 features
820 samples and 118 Instruments (24bit).
30 Kicks, 40 Snares, 6 Toms Racks, 6 Sidesticks, 36 Cymbals.
Formats: Drumagog, Drumrehab and Battery (raw wav included).
Samples have been created with their own defined character (they can be dropped right into your project, no dynamic or EQ processing needed), and at the same time are really mold able.
Elektromorph 2 is available on DVD & as a Digital Download for $209 USD.
Visit the Morevox website for more information and audio demos.