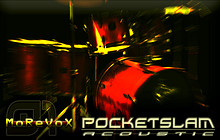 Morevox has released PocketSlam 01 Acoustic, the first in a new line of drum sample libraries.
It was born with the idea of providing different compact collections of targeted samples with an outstanding sound quality and at a really competitive price.

PocketSlam 01 Acoustic is a top class acoustic drums library. The samples are been recorded with top quality gear and processed in both analog and digital domain. The room sound volume is adjustable for each sample.
PocketSlam 01 Acoustic features
200 MB library in GOG, DrumRehab, raw wav and Battery 3 formats.
341 samples, 24Bit/44.1KHz.
17 Gog Programs.
63 DrumRehab Programs.
15 Battery 3 Programs.
3 to 5 layers.
2 to 8 variations/samples (Room Control).
PocketSlam 01 Acoustic is available for purchase for $19.99 USD.
More information: Morevox