Moses Schneider has launched the 2nd edition of The Alternative Workbook, an e-book on how to pimp your practice room featuring the German music producer's tips for successful live recordings.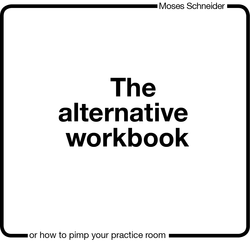 Producer Moses Schneider is one of Germany's most influential music producers. Sound on Sound magazine describes him as "quote". Under his influence, Strokes producer Gordon Raphael recorded the Strokes albums "Is This It" and "Room On Fire".

Schneider passes on his knowledge with "The alternative workbook or how to pimp your practice room". It is now mandatory reading for live recording. From positioning the band members in the recording room to positioning the mics – in the e-book, Schneider explains techniques to produce the best possible recordings without great expense as well as descriptions and sound samples. He shares his personal approach to producing and his practical experience, including recording the internationally renowned metal band Kreator. The introduction is by Strokes producer Gordon Raphael who took his inspiration from his work with Schneider.

German star producer Moses Schneider is now publishing the second edition of his book "The alternative workbook or how to pimp your practice room." The first edition was published as a printed book and the second edition is now appearing as an e-book featuring sound samples.

The Berlin-based sound magician got celebrity support for the e-book edition. His work with Kreator is featured here. Schneider explains, "All of our knowledge which is essential for recording in small rooms with little (or no) budget is presented here." Schneider gives insight into his approach to what is essential for successful recordings. "Anyone who prefers live recordings knows that the total is more than the sum of their parts. Since bands play together, they have to hear each other when they record."
The Alternative Workbook is now available for purchase for $9.99 USD.
More information: Moses Schneider / The Alternative Workbook