MotionElements has announced it will launch AudioSearch, a tool that for the first time makes it drag-and-drop simple for creators to find the perfect music to use in their projects, on January 11th, 2016.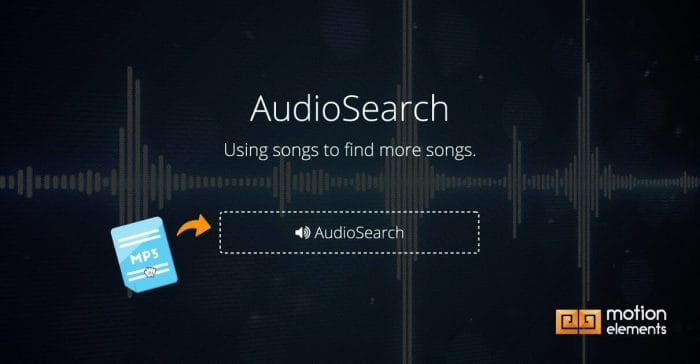 "AudioSearch solves one of the biggest challenges YouTubers, video producers, editors, podcasters and other video creators face. It's very difficult to find high quality music that fits the mood and specific requirements of their projects," said Mark Sun, Co-founder and CTO of MotionElements. "Maybe there's a song you or your client love, but you can't use it because licensing fees would be cost prohibitive. Maybe you're trying to find an outro track that's similar to your intro music. AudioSearch helps you find similar, original music that also fits your budget."

AudioSearch is drag-and-drop simple to use. Rather than trying to dream up appropriate keywords or manually input criteria like tempo and key, a user simply selects a music file on the computer and drags it onto the MotionElements search box.

In seconds, advanced algorithms analyze the rhythm, structure and chord progression of a song. Based on this, it returns dozens of relevant results from MotionElements' catalog of more than 170,000 royalty-free songs and sound effects. Users can also use AudioSearch to find songs similar to one in an existing set of search results with a single click of a search icon.

AudioSearch has already undergone an enormous beta test, with more than 30,000 audio and video professionals invited to participate over several weeks. Early feedback has been overwhelmingly positive.

Florian Godard, a partner at Creative Medias, said, "I like how AudioSearch recognise instruments, especially for piano tracks. I was able to find the music I needed successfully.I definitely think it will be easy to use and useful for your customers."

Internationally acclaimed video artist Tamas Boscorelli said, "I tried this feature and it works really well. It's just awesome how quickly it analyses the content and then comes up with relevant results."

Kazuhito Takeuchi of Japan's highly regarded Ligar Music Library said, "I think AudioSearch is a very useful way of searching for tracks, especially for video creators."

AudioSearch uses an artificial intelligence technique known as deep learning, which has also been applied toward recent breakthroughs in object recognition, natural language processing and speech recognition. This level of technology is made necessary because music understanding is much more complex than more established disciplines like image recognition.
To try AudioSearch before the public launch on January 11th, 2016, journalists can visit http://www.motionelements.com/audiosearch. This landing page provides additional information on how to get the most out of AudioSearch. After it launches, AudioSearch will be easily accessible from the front page of the website.
In conjunction with the launch, MotionElements will host a contest on its Facebook page and Twitter. Visitors can win $300 in MotionElements credit by liking the MotionElements on Facebook or following @MotionElements on Twitter, and sharing the post that officially announces AudioSearch. Two weeks after AudioSearch goes live, MotionElements will randomly select three entrants to receive $300 in MotionElements credit. Winners or their companies may also be profiled on the MotionElements Blog.
More information: MotionElements / AudioSearch