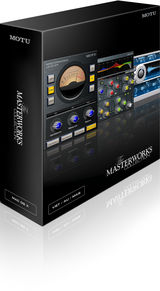 MOTU has announced it is now shipping the MasterWorks Collection, an advanced audio plug-in bundle for Pro Tools, Logic Pro, Cubase, and other Mac OS X hosts that support RTAS, Audio Units, and VST3 audio plug-ins.
"MOTU has received many requests from Pro Tools, Logic, Cubase, and Live users who wanted to get their hands on Digital Performer's MasterWorks plug-ins," said Jim Cooper, MOTU Director of Marketing. "Now they finally can."

The bundle includes three masterfully crafted audio processors suitable for even the most critical and demanding mixing situations. Originally developed exclusively for Digital Performer, the MasterWorks series plug-ins have developed a reputation for their incredibly authentic analog hardware modeling, 32- and 64-bit internal floating point processing, and highly CPU-efficient performance. All three plug-ins support mono, stereo and surround channel configurations (with supporting host software), and users can share MasterWorks plug-in presets among different hosts.
MasterWorks Collection features
MasterWorks EQ – modeled British analog EQ
Inspired by legendary British console EQs, the MasterWorks EQ™ delivers the look, feel and sound of the most sought-after classic analog equalizers.
MasterWorks Leveler – vintage automatic gain control
The MasterWorks Leveler™ is an accurate model of the legendary Teletronix™ LA-2A optical leveling amplifier, known for its unique and highly sought-after Automatic Gain Control (AGC) characteristics.
ProVerb – stunningly realistic acoustic spaces
From soaring cathedrals to primordial forests, ProVerb™ is a CPU-efficient convolution reverb that delivers the sound of stunningly realistic acoustic spaces to any track or mix.
The MasterWorks Collection is now available to purchase for Mac OS X (version 10.5 or 10.6), priced at $295 USD.
More information: MOTU / MasterWorks Collection