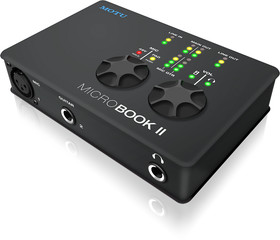 MOTU has announced that its MicroBook II audio interface is now shipping.
Engineered with MOTU's renowned, award-winning audio interface technology, MicroBook II delivers uncompromising audio quality, with measured audio specs that match interfaces costing hundreds more.
MicroBook II features
A complete 4 x 6 recording solution – Plug in a mic, guitar, and keyboard (or iPad) and record simultaneously. Connect your best studio monitors with balanced quarter-inch cables. Add desktop speakers and studio-grade headphones.
Ultra-compact size – The MicroBook II's sturdy, aluminum-alloy enclosure is an impressively small 5.5 by 3.6 by 1.25 inches, so it slides easily into your backpack or even your pocket. USB 2.0 bus power means no wall wart.
Flexible volume control and mixing – Two digital rotary encoders not only look good, they feel good, too. Push the volume knob repeatedly to cycle among the main outs, headphones, or both. Hands-on control is immediate and intuitive.
From initial inspiration to polished track, MicroBook II gets you there with broad compatibility, bus-powered convenience, and professional quality.
The MicroBook II is now available to purchase for $269 MSRP.
More information: MOTU / MicroBook II