MOTU has announced it is now shipping Monitor 8, a monitor mixer, headphone amp, and audio interface.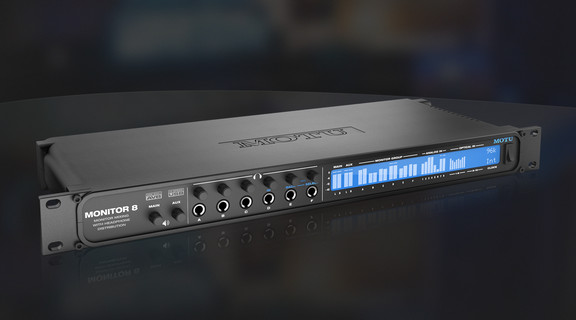 Monitor 8 is a 24 x 16 x 8 monitor mixer, 6-channel headphone amplifier and USB/AVB audio interface with console-style 48-channel mixing and DSP effects. With exceptional analog audio quality based on the award-winning design of MOTU's groundbreaking 1248, 8M and 16A AVB interfaces, Monitor 8 can serve as a primary audio interface and monitor mixer in the studio, as a complete monitoring solution for live performance, or as a dedicated monitoring component of a MOTU AVB audio network system.

"Monitor 8 is a one-stop solution for high-quality stereo monitoring through speakers, headphones, and in-ear systems," said Jim Cooper, Director of Marketing at MOTU. "With large console-style mixing and Wi-Fi control, Monitor 8 is equally well suited for both studio operation and live performance situations."
Monitor 8 features
Three products in one — 24 x 16 x 8 monitor mixer, 6-channel headphone amp and USB/AVB audio interface.
Superb audio quality — Employs the same award-winning analog design as MOTU's groundbreaking 1248, 8M and 16A audio interfaces.
24 inputs and 8 stereo bus outputs — Mix 24 physical inputs, multi-channel computer audio, and 32 AVB audio network channels to eight stereo bus outputs (Main, Aux, and monitor groups A thru F). Inputs include 8 channels of balanced (TRS) analog and 16 channels (2 banks) of ADAT optical.
Six monitor groups with flexible outputs — Each group provides multiple mirrored outputs, including 2x 1/4-inch phones (front and rear panel), summed 1/4-inch mono out for stage monitors, and, for groups A-D, balanced stereo 1/4-inch outs.
Universal connectivity — Connects to a computer with standard AVB Ethernet or audio class compliant high-speed USB 2.0 (compatible with USB 3.0 and iOS). Discovery app and web app software works alongside any host audio software.
On-board 32-bit floating point DSP with large console style mixing and effects — Flexible 48-input digital mixer with 12 stereo busses and DSP effects, including reverb with sends, plus modeled analog EQ and compression, gate, and reverb.
System expansion — Add a 2nd MOTU AVB interface (1248, 8M, 16A, 24Ai or 24Ao) with a simple Cat-5e ethernet cable. Connect up to five MOTU interfaces using a MOTU AVB Switch (sold separately).
AVB audio networking — Build a network with multiple interfaces and computers using standard AVB switches and network cabling, with ultra-low network latency, even over long cable runs (100 meters point to point). Stream hundreds of audio channels among devices and computers on the network.
Flexible matrix routing and splitting — Send any input to any output, or multiple outputs. Includes routing to and from the computer, plus any devices on the AVB network.
Web app control — Control on-board DSP, mixing, device settings, and network audio routing from web app software running in your favorite browser on a laptop, tablet or smart phone connected by wire or Wi-Fi to your local area network.
Stand-alone mixing with wireless control — Connect an Apple Airport™ or other Wi-Fi router directly to the Monitor 8 with a standard Ethernet cable and control the Monitor 8's powerful mixing and DSP effects from your smart phone or tablet, without a computer. Great for live show monitor mixing.
AudioDesk 4.0 — Includes AudioDesk workstation software for Mac and Windows with 24-bit recording, sample-accurate editing and 32-bit mixing and mastering.
Monitor 8 is available for purchase for $995 USD.