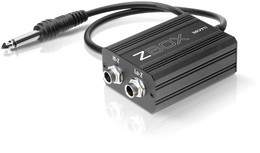 MOTU has announced it is now shipping the ZBox, a guitar pickup adapter that matches the output impedance of a guitar with instrument inputs on audio interfaces or other devices.
Guitar inputs on audio interfaces, mixers, PAs, wireless transmitters and other similar devices (often labeled "instrument") usually have impedance levels that differ significantly from those typically found on guitar amp inputs. This mismatch can make a guitar sound unnatural (too bright, thin and brittle). In addition, the guitar may not "feel right" while played through software- or DSP-driven amp models.

By providing the proper impedance levels, ZBox restores natural guitar tone that would otherwise be lost through a non-amp input.
ZBox features
Restores natural guitar tone
No extra cables required
No power required
No software or drivers required
Simple to use
Plug and play operation with any guitar
Sturdy, lightweight metal housing (1 x 1.75 x 2.5 inches)
Built-in 16-inch cable with quarter-inch plug for connection to any guitar input
Authentic matching circuits that emulate two-jack switching networks on classic guitar amps
Works with audio interfaces equipped with preamps (Mac or PC)
Works with other devices with guitar ("instrument") inputs (wireless transmitters, mixers, etc.)
Two-year warranty
ZBox is now shipping for $39.95 USD.
More information: MOTU