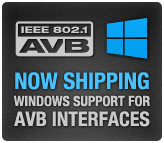 MOTU has announced it is now shipping Windows 7- and 8-compatible USB 2.0 ASIO and Wave drivers for their new line of AVB-equipped audio interface products, including the 1248, 8M, 16A, 24Ai, 24Ao and Monitor 8.
Users can connect their MOTU interface to a USB 2.0 or 3.0 port on their PC for multi-channel audio I/O with any ASIO- or Wave-compatible host software.

"We're excited that Windows users can now take full advantage of MOTU's groundbreaking deployment of AVB audio interface technology in these award-winning products," said Jim Cooper, Director of Marketing at MOTU.

The Windows driver installer is now available as a free download to all MOTU AVB interface owners at motu.com/avb, where a free download of MOTU's AudioDesk 4 workstation software for Windows is also available.

Concurrent with the Windows driver release is another "one-click" field-upgradable firmware update for all MOTU AVB audio interfaces that introduces several enhancements, including optional stereo TOSLink (optical S/PDIF) support for MOTU's 1248, 8M and 16A models.
More information: MOTU / AVB audio interfaces