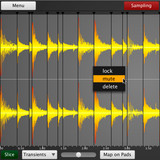 MOTU has released version 1.0.5 of urban rhythm instrument BPM, and version 1.0.2 of Electric Keys, a virtual electric piano instrument.
These maintenance updates introduce many enhancements, including 64-bit native operation under Windows 7 and Vista. BPM 1.0.5 also introduces several exciting new features, such as a new arpeggiator, beat slice editing and performance optimizations.
New in BPM v1.0.5
Native 64-bit Windows support.
Arpeggiator: Each rack part now has an independent arpeggiator.
Enhanced loop slicing: You can now add and edit slices in the Clip window.
Mono option in BPMSampler application: Previously, the BPMSampler standalone application always supplied a stereo signal. A Configuration menu now provides the option to use mono or stereo.
Improvements, optimizations, and refinements can be found in the following areas:

Performance: various CPU optimizations.
Loading: locating missing samples.
Racks: scrolling to newly created parts.
More information: MOTU