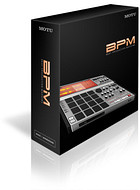 MOTU has announced the release of version 1.0.2 of BPM, the beat production machine that combines drum machine-style operation with advanced virtual instrument technology to give you the ultimate rhythm programming experience.
Version 1.02 introduces more new features, including Step Sequencer shortcuts and abilities, MIDI beat clock sync, MIDI modulation, expanded Metronome controls, and One Shot pads.
New in BPM v1.0.2
Loading slice loops into banks – you can now drag & drop a slice loop onto a bank to automatically load individual slices onto the bank's 16 pads.
One shot pads – "one shot" means that the entire sample will play (note-off info is ignored). One-shot operation is perfect for triggering samples that you don't want to get cut off when they play, such as snare hits.
Step Sequencer enhancement – you can now copy the pattern in any step sequencer line and paste it to another line.
Double Resolution – this new step sequencer feature lets you quickly double the resolution of the step grid. For example, you could start programming with a 16th note grid, but later switch to a 32nd note grid for finer resolution. The pattern plays the same, you just get better resolution — in one easy step!
Preview volume slider – you can now control the volume of preview playback in the browser.
Enhanced metronome – you can now turn the metronome on or off as desired and control its volume.
Beat clock sync – the stand-alone version of BPM now resolves to incoming Beat Clock.
MIDI modulation – BPM parameters can now be controlled with MIDI modulation, similar to MOTU's other instrument products.
BPM v1.0.2 is now available as a free, downloadable update for all registered BPM users.
Visit MOTU for more information.