After an extensive beta testing period, Akai Professional has announced the official release of MPC 2.0, the next generation of the acclaimed flagship beat-production software.
MPC 2.0 introduces a number of powerful new composition and performance features to the Music Production Center experience.
"The amalgamation of over 8 years of development, our deep audio track capability and DAW functionality makes MPC 2.0 the most powerful beat-making platform available," said Dan Gill, Product Manager for Akai Professional.
Sporting a redesigned, easy-to-use interface, MPC 2.0 represents a huge leap forward in the beat-production software category by adding a formidable set of new features including:
Audio track recording.
Real-time time-stretching and pitch-shifting.
Audio and MIDI drag-and-drop.
Redesigned user interface.
Ableton Link support.
64-bit audio.
Bluetooth 4.0 MIDI support.
Advanced signal routing capability – submixes FX returns, multi-output support.
Reimagined mixer layout.
Enhanced Q-Link control.
Designed to provide a tactile and immersive hardware-software experience, MPC 2.0 works flawlessly with Akai Professional's industry-defining MPC line of controllers, as well as the newest standalone units. Supported models are: MPC X, MPC Live, MPC Touch, MPC Studio Black, MPC Renaissance, MPC Studio, MPC Element and the MPK2 line of keyboard controllers.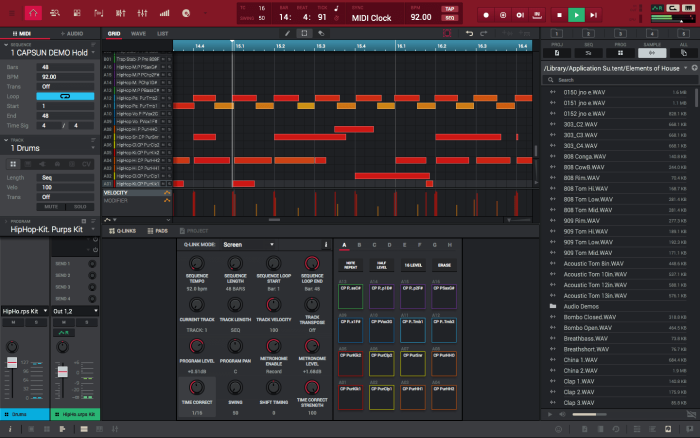 MPC 2.0 is compatible with Mac and PC, works either alone as your main DAW or integrates seamlessly into your DAW of choice as a VST, AU, AAX plugin.
Various upgrade paths are available for current MPC owners.
In the coming months, future updates will continue to add exciting new workflow features and inspiring creative tools to MPC 2.0.
Akai has also introduced The Vault 2.0, a curated collection featuring over 10GB of hard-hitting, amazing sounding samples and instruments from some of the world's premier sample library companies including: CAPSUN ProAudio, Loopmasters, Toolroom, MVP Loops, as well as our own custom sounds.
When purchased as the MPC Plus bundle, MPC 2.0 and The Vault 2.0 are available at a discounted rate.
MPC Plus (MPC 2.0 and The Vault 2.0) Bundle Pricing
MPC Studio / MPC Studio Black: $169.99 USD.
MPC Renaissance $169.99 USD.
MPC Element: $199.99 USD.
MPK225, MPK249, MPK261: $199.99 USD.
More information: Akai Professional