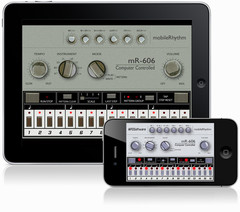 mobileRhythm mR-606, adding MIDI support to the classic drum machine for iOS.
You can now use your iPhone/iPad and mR-606 with other drum machines, sequencers, samplers, synths, arpeggiators, DAW's etc.
mobileRhythm mR-606 features
New features:

Copy/Paste patterns in play mode
MIDI notes send/receive
MIDI clock send for syncing with other hardware
Core MIDI and Line6 MIDI Mobilizer compatible

UI improvements:

Last step selection – deselect with a second tap
Drag finger across steps to set beats quickly

Bugfixes:

Fixed bug that prevented patterns from saving properly under certain circumstances
Fixed bug that made toms volume occasionally load incorrectly
mobileRhythm mR-606 for iOS 3.0 or later is available for $5.99 USD.
More information: mobileRhythm mR-606